Our Community Development Goal is
"To ensure we have the necessary public and private infrastructure to support a high performing and sustainable community for all of our people."
Special Zoning Overlay District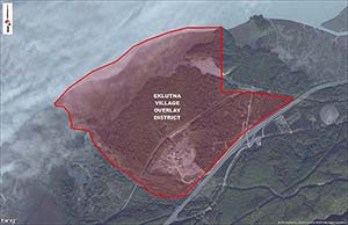 Eklutna Village (the place) is protected by a special zoning designation passed by the Anchorage Assembly in May 2014.  Our ANCSA counterpart, Eklutna, Inc. worked closely with Native Village of Eklutna to support this important effort to preserve our lifestyle and protect our village, the only continuously inhabited original Dena'ina village within the Municipality of Anchorage.  It is home to over 500 of us who are either Eklutna, Inc. Shareholders or Native Village of Eklutna Tribal Members or both.  AK Dispatch Article
Housing Services
Our Housing Services are designed to assist low-income Tribal members through homebuyer counseling, home ownership, housing rehabilitation, housing assistance, energy efficiency, and referral services.
For applications, additional information, or appointments
Email: nve.housing@eklutna-nsn.gov
Our New Health Clinic is Possible
Halfway There!!!  One Step at a time, we patiently and carefully set aside earnings, bought part of the land, worked with federal and private partners, learned what we needed to get there, and joined forces with our ANCSA counterpart Eklutna, Inc.  We are more hopeful as we continue to seek the additional funding so we can break ground.  It has been a dream from our mostly landless and disconnected community of Tribal Members for over 20 years; Tribal Members who live not just in our village, but all over Anchorage, the Mat-Su Valley, other areas of Alaska and the USA.  It is more than having running water or seeing a doctor.  It is a place that fits our different lifestyles, to gather or potlatch or work, to learn together and be whole, to share and help others.  A place, a foundation of community.
View the flyer about our new clinic.
View news article about our old clinic.